REMOTE TEMPERATURE SENSORS
Never Worry About Losing Product Again
Protect Your Inventory and Reputation with Jolt
Experience the peace of mind that comes from Jolt's remote temperature monitoring solution, designed to safeguard your inventory and automate manual operations. In any industry, the more efficient and accurate your day-to-day tasks are, the more time you have to focus on the productive aspects of your business. Jolt's remote temperature sensors eliminate human error, streamline processes, and save time and energy for you and your staff.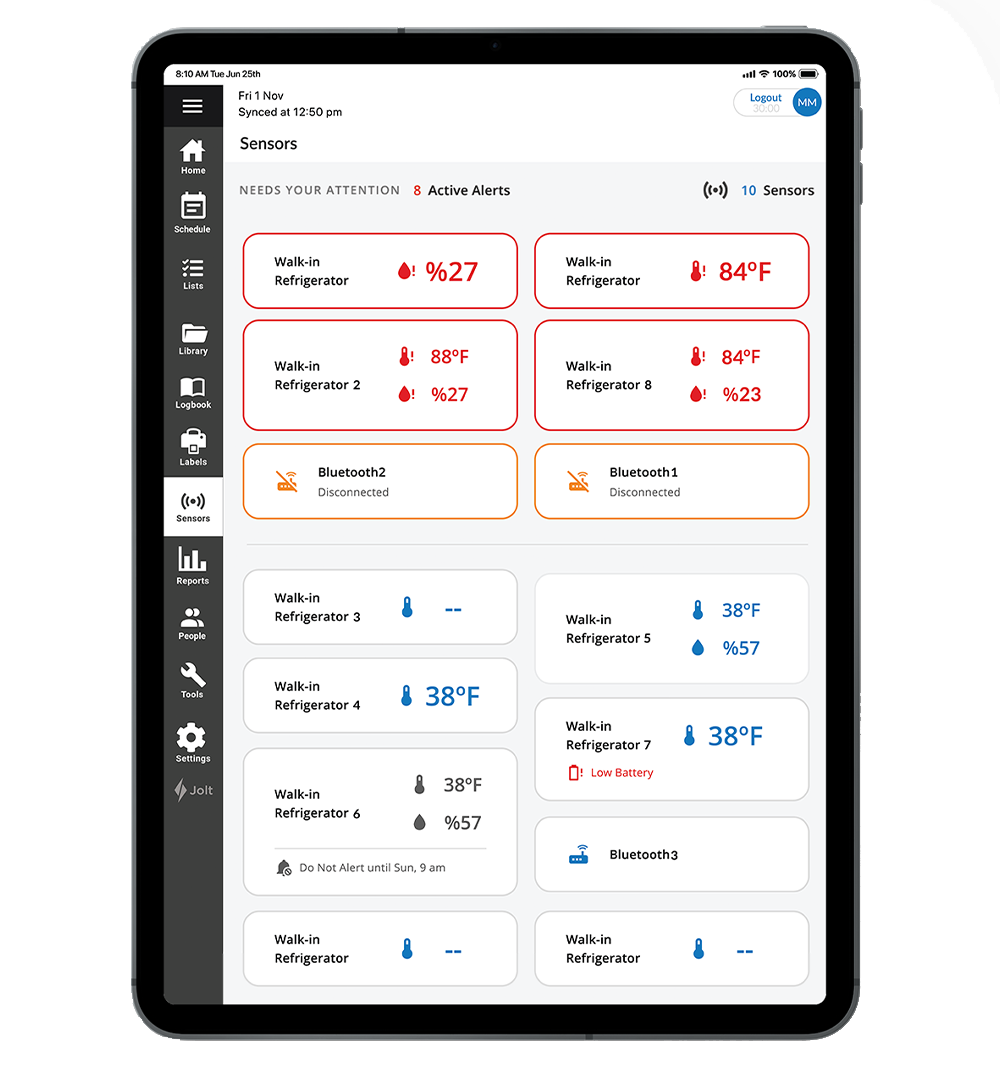 INTELLIGENT REMOTE MONITORING
Simple, Accurate, Timely
Our sensors allow you to remotely monitor the temperature of all your equipment. The moment a temperature falls outside the appropriate range, you get a notification. Protect your business' most costly assets — your inventory and your reputation.
Use Jolt Sensors to monitor:
Walk-in fridges/freezers
Bread proofer temp/humidity
Line/prep station temps
Reach-in coolers
And more
Benefits
Monitor all your equipment in one place.  Avoid Inventory Loss, Improve Food Safety, & Automate Manual Operations.
Proactive Temperature Monitoring
Monitor temperature changes proactively, track equipment health, eliminate human error, and reduce labor costs with Jolt's advanced temperature monitoring system. Protect your customers, maintain food safety standards, and experience seamless audits with accurate, reliable technology.
Using freezer and refrigeration temperature sensors to monitor temperatures is essential for many reasons. It's not only required by food safety regulations to protect customers, but it can also help you run your business more efficiently. Remote fridge & freezer temperature monitoring means you won't have to worry about losing products due to equipment failure. You'll be alerted instantly if temperatures fall outside the acceptable range, which saves you money and keeps your customers safe.
By implementing Jolt's remote temperature monitoring system, you can enjoy various benefits, including:
Centralized monitoring of all equipment

Preventing inventory loss

Improving food safety

Automating manual operations

Reducing labor costs

Ensuring customer safety

Hassle-free audits and inspection
Jolt Remote Temperature Sensors can monitor various equipment, including freezers, fridges, broilers, shake machines, and even lobby temperatures.
Track Equipment Health
Prevent unexpected costly maintenance by leveraging powerful reporting to track changes over time and highlight trends, allowing you to proactively plan for repairs or replacements.
Monitoring and maintaining critical temperatures is essential for a successful and smooth-flowing restaurant operation. Jolt's refrigeration temperature sensors can be used in walk-in fridges, freezers, reach-in coolers, and more, to monitor the temperatures of valuable products and ingredients. You can also use them to control the temperature of shake machines, broilers, and even lobby areas to ensure customer satisfaction.
Improve customer experience
Make operations smoother
Save money
Choose Jolt for your remote temperature monitoring needs, and experience the benefits of advanced technology, exceptional customer support, and complete peace of mind.
Precision and Reliability
Understanding the critical nature of accurate temperature monitoring for your business and customer safety, Jolt's products incorporate cutting-edge technology and components. This ensures that you receive the most accurate readings possible.
Effortless Usability
With Jolt, there's no need for extensive technical expertise or IT support to use your temperature monitoring system. We ensure that temperature and humidity values are easily readable. Quickly grasp current readings and significant changes through straightforward graphics and numerical values.
Long-lasting Battery Life
Jolt's temperature monitoring systems feature batteries designed to last up to a year, minimizing the need for frequent replacements. Receive timely notifications when the battery runs low, ensuring uninterrupted, up-to-date temperature readings.
Eliminate Human Error
Gone are the days of forgotten, pencil-whipped, and incorrect temperatures recorded on paper. Automatic monitoring means employees can focus on taking corrective action when necessary.
Isn't It Cheaper to Do It By Hand?
In a perfect world, maybe it would be. As it is, however, life is full of unforeseen circumstances, emergent situations, and imperfect people. Some of the common problems with tracking temperature by hand are: 
Habit reduces diligence: It is too easy to fall into the habit of checking off a box on a form without performing the actual checks. This is particularly true for busy people with several routine tasks to complete for every shift. 

People are forgetful: People aren't machines. Things will inevitably happen to distract us from the task at hand, no matter how important. Even the most well-trained and experienced people can't be expected to be 100% perfect in the performance of all their work duties, all the time. 

No alert system for emergencies: In the event that there is a loss of power, surge in temperature, or other unexpected situation, no one will be notified until the next scheduled in-person temperature check. By then, it may be too late to prevent or reverse any damage. Losses of power that happen during closing hours are particularly liable not to be detected until the damage is done unless you have an effective temperature measurement sensor system in place. 
These and countless other issues that could prevent timely and accurate temperature measurements can easily result in massive financial loss due to temperature fluctuations that go unnoticed. Entire shipments, inventories, and freezers full of food at times need to be thrown away due to something as simple as a cooler that was accidentally unplugged and went unnoticed. 
In some cases, too, failure to properly check food temperatures can lead to illness, which the restaurant or food service company may be held liable for in civil court. Even if your company escapes being sued, you can bet that a customer who fell ill after eating your establishment's food will leave a scathing review, at the very least. 
Investing in a reliable temperature monitoring system can easily prevent such catastrophic losses. 
Components of a Fridge & Freezer Temperature Monitoring System

Although fridge and freezer temperature monitoring systems have many components, they're easy to understand and use. Here's a brief overview of each element:

Temperature sensor: Senses and monitors the temperature in refrigerators, freezers, or other kitchen equipment.

Thermal buffer: Buffers temperature readings against temporary air temperature shifts, such as when doors are opened.

Temperature Measurement Device: Detects and measures the temperature using probes or infrared sensors.

Data Storage: Collects and stores temperature data for easy access and auditing.


Alarms and Alerts: Notifies you and your management team of any critical temperature issues, allowing you to address them quickly and prevent potential problems.
Reduce Labor Costs
Remove the need for employees to spend time recording temperatures at all, or shorten the time it takes to walk around your locations, by recording sensor temperatures into a digital checklist with the touch of a button.
Advanced Features and Customizable Solutions with Jolt
Jolt's remote temperature sensors are designed to cater to businesses of all sizes and industries. With a range of advanced features and customizable solutions, Jolt ensures that you have the tools you need to manage and maintain optimal temperature conditions across your operations. Jolt's refrigeration temperature sensors save you time and money by automating the monitoring process. You won't need to waste time manually recording temperatures, and the system will keep you updated with only the most essential notifications. This constant control and oversight of your business systems help to eliminate human error, leading to a more significant return on investment.
Seamless Integration and Scalability
Jolt's temperature monitoring system can be easily integrated with your existing infrastructure, allowing you to monitor and control temperatures across multiple locations. The system is also scalable, so as your business grows, Jolt's solution can grow with you, ensuring consistent temperature management throughout your expansion.
Real-Time Alerts and Notifications
With real-time alerts from temperature alarms for freezers and fridges, you can protect your inventory and give your customers peace of mind. You'll be alerted anytime the temperature is too high or too low for too long, keeping your products safe and fresh. The instant alerts and real-time monitoring mean you won't have to worry about your fridges and freezers keeping your products cold and safe. Jolt's system sends instant alerts to your mobile device or email when temperature conditions fall outside of the predefined range, ensuring you can take corrective action promptly.
Protect Your Customers
Reduce the risks of foodborne illness and get peace of mind knowing that food is always maintained at safe temperatures and monitored using accurate and reliable technology.
Pass Food Safety Inspections with Ease
With Jolt's freezer and refrigeration temperature sensors, you'll be able to access temperature logs and reports quickly from any computer or mobile device. This means food safety checks can be completed faster and more efficiently, keeping your business compliant without sacrificing speed. You'll be able to pass food safety inspections and audits without any worries!
Jolt Protects Customer Information
Jolt understands the importance of data security and regulatory compliance. The temperature monitoring system adheres to strict security protocols and industry standards, ensuring that your data is protected and your business remains compliant with all relevant regulations.
Secure and Accessible Data Storage
Trust Jolt with your temperature data storage needs. We utilize cloud computing technology to provide accessible storage without the worry of on-site hardware. Your data is securely stored, well-organized, and readily available whenever you need it.
Convenient Wireless Data Access
Access current temperature readings and other measurements on any internet-connected device, from anywhere in the world. Review archived data without being physically present at the sensor location. Save, download, share, and examine stored data at your convenience, whether you're at home or on-the-go.
Experience Hassle-free Audits
Access temperature log reports for any time period, quickly and easily, on the web or directly from a mobile device, offering complete visibility and making audits and inspections a breeze.
Customizable Reporting
Generate custom reports based on your unique requirements, enabling you to analyze temperature data and identify trends over time. Jolt's reporting capabilities help you make informed decisions, optimize processes, and maintain the highest standards of safety and compliance.
Keep Your Cold Storage at Optimal Temps
With Jolt's temperature monitoring system, you won't have to stress about your cold storage. You'll be notified if temperatures ever fall outside the range you set. This means you can monitor all your equipment in one place, avoid inventory loss, and improve food safety. Jolt's reliable system lets you monitor fridge and freezer temperatures from one convenient platform, making it easier than ever to ensure food quality and safety.
World Class Customer Support
Jolt's dedicated customer support team is available to assist you with any questions or concerns. Receive guidance, troubleshooting assistance, and expert advice to ensure that your temperature monitoring system is operating at its best.
Jolt's remote temperature sensors provide an unparalleled solution for businesses looking to optimize their temperature monitoring and management processes. By incorporating advanced technology, user-friendly interfaces, customizable features, and dedicated customer support, Jolt delivers a reliable and efficient system that safeguards your inventory, reputation, and bottom line. Choose Jolt for your temperature monitoring needs and experience the advantages of a trusted, innovative solution.
Work With Jolt
By using Jolt's remote fridge and freezer temperature sensors, you can revolutionize your business automation and enhance overall performance. Monitoring temperatures throughout your operations is crucial to cutting losses, improving efficiency, and maintaining compliance with food safety standards. You'll also leave your customers happier than ever!
Don't miss the opportunity to streamline your business with Jolt's innovative technology. Try their freezer and refrigeration temperature sensor system today and experience the benefits for yourself!
Reduce Liability & Ensure Quality
Use Jolt Remote Temperature Sensors To Monitor:
Freezers
Fridges
Broilers
Shake Machines
Lobby Temperatures
And More
Why Our Customers Love Jolt Sensors
"Jolt saved all of my ice cream before any of my employees even noticed there was a problem with the walk-in freezer."
"Steritech came in and audited us for our food safety. They couldn't believe how everything had a label on it, and were impressed with Jolt's digital food safety solution."
"Our store recently got an evaluation from EcoSure and we received a Pride Award. The person doing the inspection said it was the cleanest Dairy Queen store they had ever seen."