Jolt Referral
Partner Program
Jolt's Referral Partner program helps your clients succeed,
and gives you a fresh revenue stream.
DRIVE RESULTS
Work Smarter, Not Harder
Jolt is an all-in-one solution that helps business owners in all industries run a smoother, more efficient operatioin.  Jolt helps consultants in all industries, offer their clients a solution to implement their advice in a way that achieves maximum results.  Watch the video below to learn more about how Jolt can help your clients.
Get Started With The Jolt Partner Program. 
Once you are registered with Jolt, you'll be given a referal page, where you can begin to register your clients and start to earn your rewards.
Jolt partners with sales professionals, sales organizations, and industry consultants who help restaurants, retail stores, and other service industries with:
How Jolt Software Helps Your Customers Succeed
Team Accountability
Jolt helps your clients move from paper to digital checklists for improved accountability. With Jolt, employees work like you're there, even when you're away.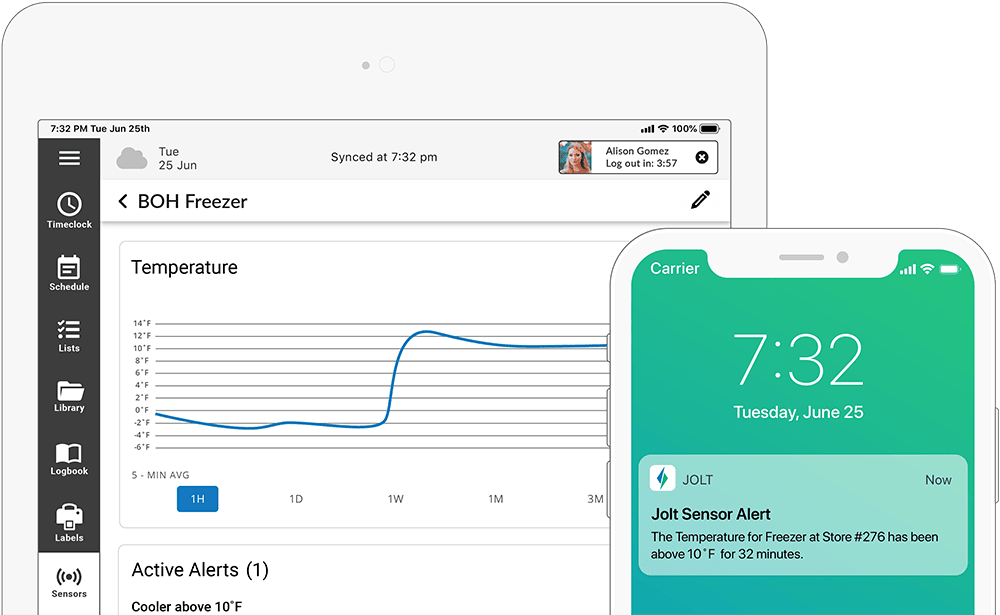 Digital Food Safety
Jolt helps your clients digitize their food safety process for more accurate temperatures and labeling. With Jolt, your clients are set up for success, and will pass inspections with ease.
Employee Performance
To achieve ultimate restaurant success, employees need training, feedback, and recognition. Jolt helps your clients train employees on exactly what to do, and how to do it best—all aimed at delivering exceptional customer experiences.
You are only limited
by your imagination.
Use Jolt's Task Management Features For:
Regular or surprise audits
Opening & Closing Checklists
Travel Path
Daily & Weekly Cleaning
Roller Coaster Safety Checklist
CLIA Compliance Checklist
Temperature & Food Safety Logs
New Hire & Onboarding Checklists
Hand Washing Logs
Pre-Flight Checklist
Equipment Maintenance
Building Maintenance
And More
Why Our Customers Love Jolt Lists
It has provided me peace of mind while not in the stores which, as a restaurant operator, is a big deal. I can feel comfortable knowing that the things I expect to get done each and every day are being completed to the standards set, not only by myself but by Smoothie King as well. And when things aren't done, I love that I receive automatic notifications on my phone.
We've cut review time by 60%. And we've increased the accuracy of our documentation because there's ways of knowing who did what, at what time.  Jolt is a key part of moving our business forward operationally.
I would say to those on the fence that you shouldn't think about it a second longer! You should get Jolt now because it's one of the best programs that we have ever worked with, both here now and in the future because Jolt is always innovating and willing to work with companies to meet their needs. They are constantly coming up with new tools to help companies and the marketplace.