You've probably noticed just how many restaurants are using tablets these days, not just for taking orders, but for back of house duties as well.
That is no accident.
Measuring your daily checklists has some serious advantages, and seeing them in real time allows management to make informed decisions on the fly. That's why 1 in 2 Chick-fil-As use Jolt for daily operations.
Simply put, digital checklists result in cleaner stores, faster service, and more consistent processes.
Here are the top five reasons why leading brands are switching from paper to digital checklists to improve accountability in their stores.
You Can View A Digital Checklist From Anywhere
The most immediate and obvious advantage to a digital checklist over paper is the ability to view it from anywhere.
While having your daily processes outlined on paper is a step in the right direction, making checklists accessible to managers and owners on-the-go gives employees a greater sense of responsibility, and gives managers visibility into multiple locations from anywhere.
If you're looking for employee accountability (especially when you're away from the store), you'll need to move from paper to digital checklists.
Digital Checklists Go Beyond the Checkmark
Traditional paper checklists show task completion as a binary—either a task is done, or not done.
With photos, location tagging, numerical entries, and other inputs, digital checklists give you a more complete story of what's going on in your store.
Where before you're forced to trust a checkmark on a clipboard, you can now see that the napkin dispensers are full every day. This helps ensure you're always prepared for the rush, and establishes a sense of accountability for your entire team.
Digital checklists go beyond the checkmark to give you a permanent record of each day's challenges and successes.
An example of photo-proof in a Jolt digital checklist.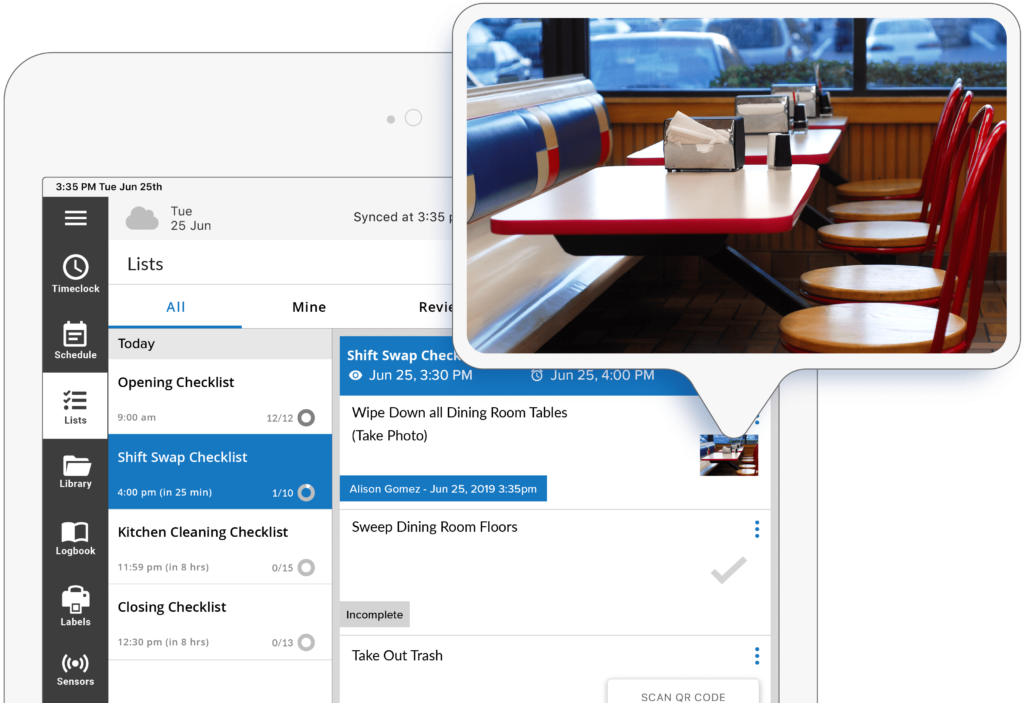 Digital Checklists Provide Real-Time Information
If you're using paper checklists, it's unlikely you have aggregate information for your stores. This is especially true if you're overseeing multiple locations.
Digital checklists help you see challenges in real time, and can even notify you when you're away from the store. If there's a failure to complete food safety checklist items in your westside location, you'll know that immediately—not when the weekly or monthly report comes out.
Seeing your challenges as they happen allows you to adjust in real-time, making your team significantly more agile to handle challenges as they arise.
Digital Checklists Train Employees On-the-spot
More often than not, when an employee encounters a task they're unfamiliar with, they ask another employee with more experience. Suddenly, instead of accomplishing a task, you're retraining during the lunch rush.
Digital checklists completely curb this by allowing you to attach trainings directly in a checklist. These can be reference photos, how-to videos, recipes, or instructions of any kind.
By placing them directly in the checklist, employees who are assigned an unfamiliar or uncommon task can get trained in the moment, and accomplish that task without managerial intervention.
By training employees on-the-spot, digital checklists provide a significant leap in efficiency, especially for quick service restaurants.
Digital Checklists Improve Task Completion Rates
To improve something, you must first establish a baseline. Digital checklists give you an idea where your current task completion rate stands, making it easier for you to assess and improve.
It's not uncommon for customers to approach us with checklist completion rates of 20% or less.
By switching from paper to digital checklists, Jolt reliably helps restaurants improve that ratio to 90%.
Jolt uses audible notification to make sure staff know what they're supposed to do, and what tasks are past due. Simple changes like this make for a staggering difference in the daily operations of a restaurant, especially with young employees.
If daily duties are falling through the cracks in your restaurant, Jolt's team accountability solution is the first step to achieving a cleaner store and more consistent processes. From there, your employees will only get faster and faster.
Looking to make the switch from binders of paper to digital checklists in your store? Get a free demo of Jolt Software here.
Related Blogs:
How to Get a Cleaner Restaurant in Three Days