Culver's Solves Digital Food Safety with Jolt
We recently visited the Orem, Utah, location of Culver's, a fast-growing quick-service burger chain known for its customer service and family-friendly environment.
Culver's folksy, welcoming atmosphere is a direct result of their Wisconsin roots, or what they call "Midwest Hospitality." We saw this in spades at franchisee Spencer Young's location in Orem.
Watch the Video
Spencer, like many Culver's franchisees, was facing a challenge when it came to food safety labeling. He'd recently invested four-figures into a printing system that ultimately failed him, and needed a quick, intuitive solution for his team.
The Preferred Food Safety Solution for Culver's Franchisees
Since Jolt became a preferred vendor for Culver's in fall 2018, we've seen all sorts of owners making the switch.
With all Culver's checklists and labels already in Jolt's system, and a printer that costs 1/3 that of the competition, Culver's franchisees are looking to Jolt as the preferred digital food safety solution for top-performing stores.
This was certainly the case with Spencer, who even recommended that his brother—also a Culver's franchisee—adopt Jolt's digital food safety solution on opening his new location.
Both brothers now use Jolt for digital food safety compliance and team accountability.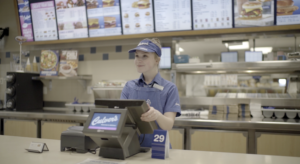 Jolt Labeling Delivers Accuracy and Visibility
"As an owner, you know you're juggling a lot of things, and wearing a lot of hats," said Spencer.
"With Jolt, there are no mistakes. It has the date and the time right on there. When the Health Department comes they can see everything is clearly labeled."
Spencer noted that Jolt was especially helpful for labeling bread and the sundae bar.
"Jolt helps with the health department. It helps with corporate visits. It helps with overall food safety."
We hope Spencer, his brother, and the other 300+ Culver's that use Jolt to improve digital food safety compliance continue to help spread the word.
Watch the video above to see Jolt's touch-to-print interface, and how quickly and accurately Jolt date labels print.
Read more Jolt blogs below for best practices and insights for restaurant owners, managers, and other food industry professionals.
Learn more about Jolt Software can help your restaurant master digital food safety compliance by requesting a free, personalized demo.
Related Blogs:
3 Ways to Ensure Your QSR Serves Hot, Fresh Food (Without Sacrificing Speed)